You are sailing on a five star ship with all meals, entertainment and accommodation included.
Locals looking to explore sailing for the first time have a low-cost option sailing to Vancouver this fall.
If you're looking for a fun weekend getaway, Holland America Line (HAL) offers an overnight trip from Seattle that lets you immerse yourself in the world of sailing without committing to a longer itinerary (or breaking the bank).
Known as medium-sized ships, HAL ships are significantly easier to navigate than many of the mega-ships at sea, which can hold more than 5,000 passengers. As such, you will have the opportunity to get to know the ship.
The cruise departs Seattle on Saturday, October 8 at 4 p.m. and departs in Vancouver at the Canadian cruise ship terminal at 7 a.m. the next day. Since you won't be able to drive, there are two options to get off to Seattle. You can take a flight starting at $189 CAD with Air Canada.
Alternatively, a recently launched North American bus service called Flixbus is offering rides from downtown Vancouver for as little as CAD$24.99 this weekend. As of this writing, the cheapest fares that go along with the cruise have been sold out, so prices start at $59.99. However, if you want to spend more time in Seattle, you can bus the day before and spend one night in a hotel.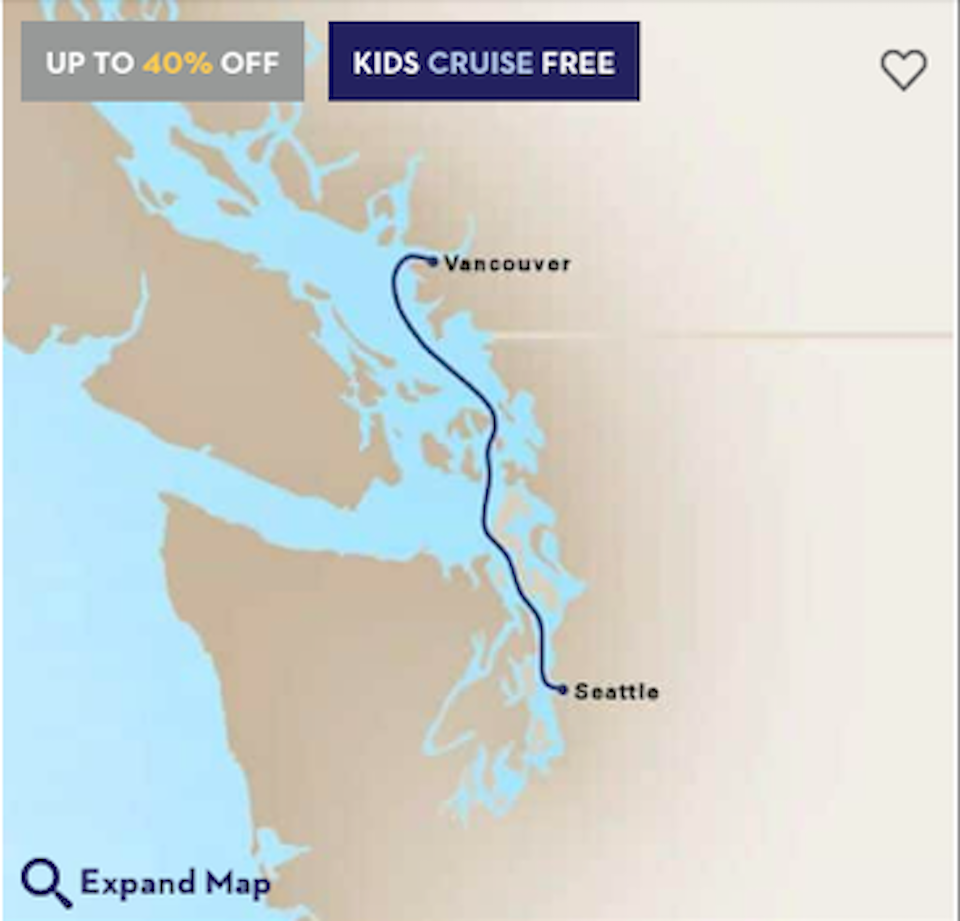 Cruise Vancouver and Seattle with Holland America Line in Fall 2022
The total cost for a deluxe room for two people including all taxes and fees is CAD 446.76 including all taxes and fees (or CAD 233.38 per person).
The cruise ship for this cruise is the Eurodam, the first Dutch Signature ship. It has a tennis court, basketball court, 12 bars, lounges, disco, movie theater, 2 swimming pools, spa, arcade and much more.
This cost includes not only transportation on a beautiful five-star ship, but also meals, entertainment, snacks and lodging. The only thing that doesn't come into consideration is alcohol and drinks, but you can choose to purchase a drink package that can reduce your cost of spending.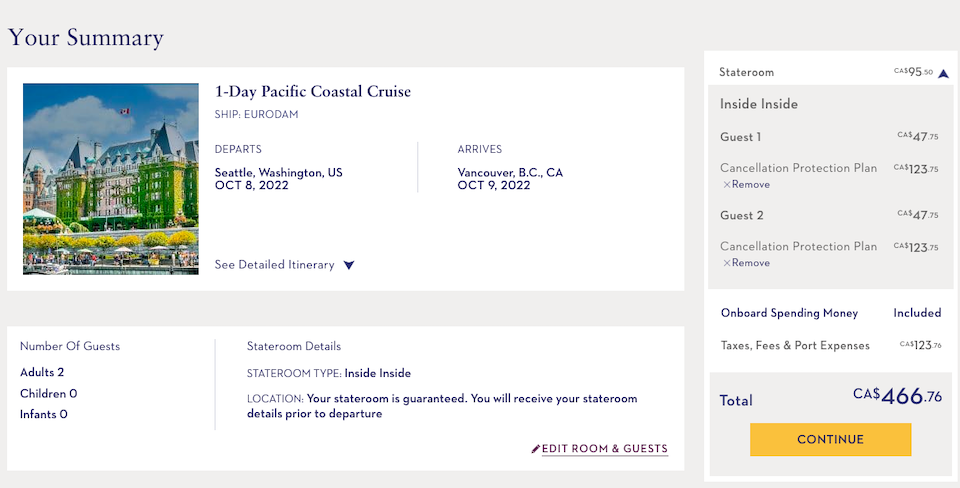 Jazz and blues fans are well known for their live entertainment, as they will enjoy inspiring performances at BB King's Blues Club. In addition to the main dining room, there's a casual option at the Lido Deck and a couple of fine dining options: Pinnacle Grill and Canaletto Restaurant. For burgers or sausage at lunch, Dive-In serves up mouthwatering meals for hungry cruisers until 6pm.
Book your cruise with Holland America Line online.
Early this year, I set sail for Holland America Line's first flight to Vancouver. It was the first cruise back to Canada since the start of the pandemic. Read my experience sailing from San Diego in April.
All cruise passengers must enter their travel and personal information into the ArriveCAN app before disembarking in Vancouver. Learn more about the process using the VIA tutorial.